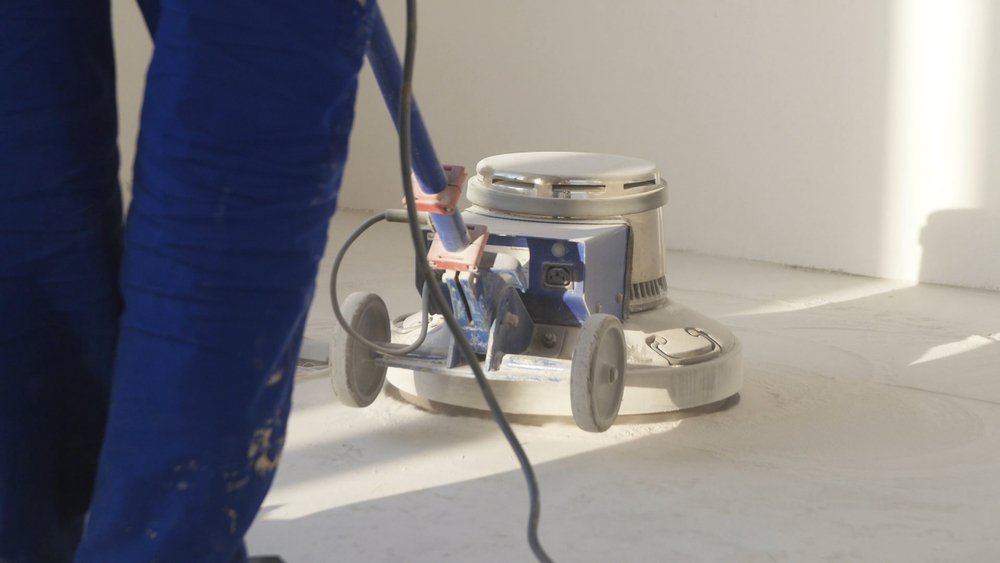 Concrete is sturdy, and to grind, polish, or finish a concrete floor, and you'll have to get yourself the best concrete grinder on the market. However, deciding on the one that best suits your needs may not be as easy as it sounds since there are tons of options. If you're not sure what features make a reliable concrete grinder, you can check out the buying guide at the end of the article. And if you want a comparison between the best options available, check them out below.
The 6 Best Concrete Grinders for 2021
1. DeWalt DWE46153 Angle Grinder – Best Budget Concrete Grinder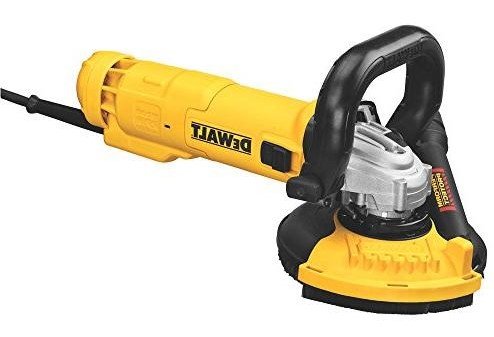 You can use your DeWalt DWE46153 concrete grinder for concrete preparation and surface polishing, as it's versatile enough to handle various tasks.
Running on an 11-amp universal AC/DC motor, the DeWalt DWE46153 concrete grinder can spin its grinding disc at a speed of up to 11,000 ROM during load-free sessions.
Moreover, the DeWalt DWE46153 concrete grinder comes with a 5-inch diamond grinding cup-wheel that can be detached and replaced with the help of the spindle lock according to the user's needs.
This cup shape design allows it to minimize vibrations as well as dissipate heat.
It also has a very portable and compact design. It measures 18.31 x 6.75 x 5.38 inches and weighs 8.5 pounds, which makes it super easy to maneuver, carry around, and store.
This also proves very handy when you need to work on an area with tight angles or that is hard to access.
As for heat extraction, this grinder does an incredible job. It features a dedicated dust-control system that consists of a surface guard attached to a vacuum adapter. The latter is connected to a dust-control shroud that absorbs all dust and debris from your work environment.
Bottom Line:
This hand-held concrete angle grinder is one of the most lightweight and portable single-disc options on the market. It has a lot to offer yet comes at a super affordable price.
While it's not as durable as its Bosch rivals, it's still good enough to last you 3 years of heavy-duty concrete grinding.
2. Bosch 1773AK Concrete Surfacing Grinder – Best Comfortable Concrete Grinder
If you're looking for a robust, versatile, and relatively portable concrete grinder, the Bosch 1773AK concrete grinder is a very good option.
It's equipped with a 10-amp motor that can spin its diamond 5-inch grinding disc at a speed that reaches 11,000 RPM.
Measuring 19.8 x 14.9 x 10.6 inches and weighing 14.9 pounds, it's not the most compact or lightest, but it's still quite portable in terms of concrete grinders.
The Bosch 1773AK concrete grinder is great for polishing and texturing surfaces, as well as removing coats and shallow, hardened grits. You can also use it for grating and smoothing hard surfaces like concrete, marble, and granite.
This is quite versatile, but not as versatile as the Bosch CSG15 concrete grinder that enables you to use both the 11-diamond segments grinding disc and the turbo-continuous rim disc as the Bosch 1773AK concrete grinderworks best with the former.
To make wheel changes easier and more convenient, the Bosch 1773AK concrete grinder comes with a spindle lock that features proprietary Service Minder brushes.
Moreover, the auxiliary handle has a well-thought design that allows the user to have a steady grip on the unit and a dust-guard system with a dust-collection shroud.
Bottom Line:
The Bosch 1773AK concrete grinder is a top-notch, hand-held, single-disc concrete floor grinding kit that comes with a 5-inch diamond grinding wheel with an ability to grind concrete, polish surfaces, and prepare them.
However, it doesn't suit prolonged dry grinding as it doesn't have a reliable dust extraction system and is prone to overheat.
3. MK Diamond 166859 MK-SDG-7 Concrete Floor Grinder – Top Pick Concrete Grinder
If you're searching for the best walk-behind concrete floor grinder, look no further than the MK Diamond.The diamond cup wheels are powered by a robust 15-amp motor that delivers 3500 RPM from its 5-inch diamond wheel.
You can use it for concrete, marble, rubber, adhesives, or practically anything that you want to grind off the floor.
If you have the budget for it, I'd highly recommend the MK Diamond for its superb grinding capabilities.
Moreover, it has a simple yet sleek design and suits both light-duty industrial applications and heavy-duty home projects.
And to deal with dust and debris, the MK Diamond attaches to a traditional industrial shop hoover. This keeps your work area clean and keeps the air safe to breathe.
For a walk-behind grinder of its size, it's quite light at only 44 pounds. It also comes with wide and comfortable handles that you can remove for easier storage.
Bottom Line:
The MK Diamond 166859 MK-SDG-7 concrete grinder stands out on this list because it's the only walk-behind style concrete grinder on it. With a very powerful motor, this unit is capable of grinding and polishing practically any material.
However, it's not as easy to use as other options, and its speed is a bit underwhelming.
4. Bosch CSG15 5-Inch Concrete Surfacing Grinder – Best for the Money Concrete Grinder
It's no surprise that the Bosch CSG15 concrete grinder is a powerful unit as it features a robust 12.5-amp motor that can spin its wheel at a speed of 9,300 RPM. While the speed is lower than that of the 1773AK, this unit is more powerful.
It's also versatile enough to suit both grinding and finishing applications. This is thanks to the 5-inch diameter diamond wheel.
Measuring 19.75 x 14.75 x 10.75 inches and weighing about 23 pounds, the Bosch CSG15 concrete grinder is not the most compact or lightweight. But it's still good enough when it comes to accessing places that are harder to reach.
With the auxiliary handle, you won't face any issues maneuvering or balancing this grinder. You'll also be able to operate it for prolonged periods as the handle is an easy-grip one.
Finally, to keep you safe from dust and debris, the Bosch CSG15 concrete grinder features a three-part dust guard that works superbly.
Bottom Line:
Combining ample performance with quality, the Bosch CSG15 concrete grinder is a great 5-inch small concrete grinder. It features a sealed motor casing and an efficient dust-guard system that contribute to its reliable performance.
However, it's not the most durable and shouldn't be used for industrial-grade projects.
5. Metabo US606467800 Concrete Renovation Grinder – Top Pick Concrete Grinder
The Metabo US606467800 concrete grinder is a small and ergonomically-designed grinder. It runs on a 15-amp motor that spins its wheel at a speed of 6,600 RPM.
Having a 7-inch blade means that you'll be able to grind more surface area with every spin of the diamond-cup wheel.
This is quite lower than speeds typically found on 15-amp grinders, but that means that its accuracy of finishing is unprecedented.
It works very well when it comes to grinding both concrete and metal materials, and it's capable of working with all stages of finishing.
The Metabo US606467800 measures 8 x 23 x 16 inches and weighs around 22 pounds, which means that it's not that hard to move around and store, but not the most portable either.
Moreover, this unit comes with a dust shroud that works superbly and provides you with guaranteed protection from dust and debris.
Bottom Line:
While the Metabo US606467800 concrete grinder is quite powerful, capable, and comes with a set of ergonomic features, it's a little pricier than our top pick –the DeWalt DWE46153- which has superior performance.
6. Makita VC4710X1 Angle Grinder
The Makita VC4710X1 is a great choice for anyone looking for a concrete grinder with a vacuum. This is especially useful for those who'll work with dry concrete that's bound to produce a lot of dust.
It has a powerful 12 amp motor and an ample 7-inch capacity. And while these numbers are good, they're not the best –which leads us to think that this unit is a little overpriced for its capabilities.
Especially when you think about how loud its operation is and how often it overheats.
And the worst part was that the self-cleaning filter that's supposed to extend the shelf-life of the unit easily clogs up with dust and struggles to collect anything else.
Bottom Line:
While the Makita VC4710X1 isn't the best option out there, it's still a good one for someone that wants a very clear workspace as the included vacuum works on getting rid of all the dust and debris of grinding.
How to Pick a Concrete Grinder?
When you set out to buy a concrete grinder, there are a couple of things that you should consider.
The Disc
This is one of the most important features you'll find on a concrete floor grinder. You should consider its size and material as they affect the grinding jobs you'll be able to do.
Silicon carbide and diamond tools are the most commonly used material for grinding discs. "Diamond" refers to diamond-studded materials that are attached to the grinding disc.
Typically, the more diamond involved, the more expensive the grinding disc will be as well as more powerful.
Moreover, the size also matters as it indicates the surface area the grinder can cover with each spin.
Getting a grinder that is compatible with multiple discs (dual-disc and triple-disc) would add more versatility to the unit.
Usually, grinding discs are between 8 inches and 12 inches in diameter.
Grinding Depth
The depth of grind refers to the level of grinding with every revolution of the blade.
Smaller, hand-held grinders usually have lower depth when compared to bigger, walk-behind industrial grinders. The latter also utilizes multiple discs simultaneously, so they have a superior grinding depth.
If you're going to be working on massive surface areas, opt for a walk-behind grinder for their speed and efficiency.
However, if you're going to work on a smaller task, a hand-held grinder will be the better option. They're lightweight, compact, easy to store and transport from one place to another. Moreover, they enable you to reach tougher places.
Dry vs. Wet Grinding
When you're grinding concrete, you'll either do wet or dry grinding.
Normally, grinding discs are able to handle the stress that results from sliding friction in order to strip away the top layers of concrete surfaces.
However, a cloud of concrete dust can be produced if a user grinds on a dry concrete floor, and the user might inhale some of it, which is quite dangerous.
That's why there's a dust bag that works on sucking the dust away from the work area.
But during heavy-duty tasks, it's better to wet the surface that you'll grind with a thin layer of fluid. And this is what we call wet grinding.
Gas vs. Electric Grinders
The concrete floor grinder you get will either run on gas or electricity, and each has its advantages and disadvantages.
If a power outlet is readily available and accessible in the area where you'll be working, go for an electric one.
However, for remote areas where electricity isn't an option, a gas-powered grinder is the obvious alternative. Although these are a bit louder, they're also usually more powerful.
Final Thoughts
While it's hard to decide on which of the products listed above is the best concrete angle grinder overall, there are some options that do better at combining several features together.
If you're looking for an affordable unit that's still versatile, powerful, and reliable, you'll find none better than the DeWalt DWE46153.
But if you're looking for the most powerful grinding that competes with industrial-grade work, you should opt for the walk-behind MK Diamond 166859.
Finally, the Bosch 1773AK would be a good choice if you're looking for something portable and efficient –however, it's a bit of a pricey choice.