If you have a smallish yard with those spots you can't easily maintain with a lawnmower, and you like to keep your garden tidy and polished, consider trying an electric string trimmer.
Compared to traditional gas-powered string trimmers, electric models are easier to maintain because you don't need to worry about the mess of mixing fuel or storing gasoline. Having an electrical outlet will fix the powering issue.
One the other hand, even if corded electric string trimmers are a better option than gas-powered tools, this one must always be plugged into an outlet to operate, which limits your freedom of movement.
With a cordless electric string trimmer, you will be able to roam wherever you like on your property, making it so much easier and comfortable for you. And the most suitable option for your home yard.
In this light, we created the following list of the best cordless trimmers in the market, listed according to the need of each one reading this.
So before going into it, you need to understand your needs right.
Choosing The Right String Trimmer for Your Needs
Here are some basic guidelines for which model is right for you and what other features you need. Here are some points to take into consideration.
How big is your yard?
If your yard is small, a standard battery will do the work for you. So spending too much money on a trimmer with a greater battery capacity while you don't even need it would be a waste of money.
And vice versa, having a large yard requires more trimming time, which leads you to get a battery capable of completing the work for you efficiently.
Are there obstacles in your yard?
Look at where you will be trimming around, are there any obstacles for your trimming, or would you be working around basic planting beds and trees? That would help you know the features you'll need. A pivotable head for the hard-to-reach spots, a space guard so you won't damage your plants and flowers, …
Other features to consider:
Weight: keep in mind that you will carry the tool in your hand for a long time, so consider weight and good balance when choosing your trimmer.
Quick charging: Some models need hours for a fully charged battery. In case you're using a single battery repeatedly for a large yard, it would be better for you to get a fast charger so you'll save plenty of time.
Connection capability: Some models feature a universal connector that lets your trimmer work with attachments from other brands, without voiding the warranty.
Noise: Even though electric weed eaters are considerably quiet, it's best to use ear protection when running string trimmers. The manufacturer's instructions specify the type of ear protection you need.
Top 8 Best Cordless String Trimmers 2021
1- WORX WG163 GT3 (Most Popular on Amazon)
The WORX's cordless weed eater model WG163 GT3, is the most purchased string trimmer on Amazon yet. The tool comes with a pack of two 20-Volt batteries easily replaceable, providing a long time of use. The cutting diameter is 12 inches across, with a no-load speed of 7600 rpm that will cut through weeds and grass effortlessly, plus an option of a 90° pilotable head helping you access areas like those under your swing sets.
It also includes the ability to convert from a trimmer to an edger in a few seconds without the need for any additional tool for the conversion. All you have to do is use an easy pull to turn the trimmer head and turn to lock it in place. You'll end up then with a wheeled edger letting you trim along your sidewalks.
Besides what's mentioned, the WG163 is incredibly lightweight with 5.3 pounds only, making it a very comfortable tool to use, and the lightest model among other Worx's cordless trimmers.
All these functionalities and features come at a very affordable price compared to many other string trimmers in the market—no wonder for it to be the highest purchased weed trimmer.
Pros:
An extra battery offered
Light-weighted
Pivotable head (90°)
Affordable
Warranty of 3 years
Cons:
Long charging time
Short shaft
Not meant for tough vegetation trimming
2- BLACK+DECKER LSTE523 (Several Features With Low Cost)
This BLACK+DECKER weed eater has numerous functionalities at a very affordable price.
One of the main advantages is the two-speed setting, which is different from basic weed eaters we tend to see.
The speed selection is made using a switch between a 5200 Rpm speed for extended runtime, Which is suitable when cutting a wide area of thin grass growth because it will keep your battery charged longer.
The second switch offers a 7200 Rpm speed that will provide more power instead, Which is ideal when dealing with tough weeds.
It also uses the Power Drive Transmission system, which increases the torque as you approach heavier grass or weeds areas to give you more power to cut through them.
And the EASYFEED system allows you to advance your line with the push of a button – no bumping required.
The string trimmer comes with a flip-to-edge collar, which means you can switch between trimming and edging without worrying about adjusting the shaft length as you might usually have to do before.
A battery of 1.5 Ah is included, which is part of the manufacturer's 20V lithium battery system, it implies you can use it in any tool from the Black & Decker family as long as it has the same voltage.
The trimmer with the battery attached weighs 6.3 pounds, which is not heavy and overall comfortable to use.
Pros:
2 Speed settings
High torque PowerDrive transmission
Lightweight and quiet
Very affordable
Warranty of 2 years
Cons:
Lacks a spacer guard
Slow charging
Work well for home use only
3- BLACK+DECKER LST300 (Inexpensive Quality Trimmer)
The same manufacturer also came with another great product; this one evidently has different functionalities we're going to point out next.
Firstly, the LST300 comes with a high speed of 6200 rpm, ready to go through all the thick weeds of your yard. Also equipped with a 2.0 amp-hour 20-Volt battery, that can be released and slides in quickly while offering a decent working time (an average of 20-30 minutes). However, to charge it, you need to wait a few hours. Therefore, in case your yard is large, a spare battery is necessary.
Besides, the string trimmer has a pivoting handle and an adjustable length, as well as the ability to turn into an edger in a few seconds, only by: unlocking the shaft, turning it on, and locking it again.
No wheel is contained to keep a distance from the ground while edging, yet the small metal guard will help you with that.
The automatic Feed Spool in this trimmer will ensure continuous work without bumping, with a line diameter of 0.065 inches.
The LST300 is a perfect trimmer for a small garden. It is lightweight, cordless, and quiet, so you'll have complete freedom of movements during the work. And yet at a very fair price.
Pros:
Solid battery run time
Lightweight and very easy to use
Warranty of 3 years
Cons:
No possibility to regulate the speed
No wheel for edging
4- GreenWorks GW2100202 (Very Powerful Cordless Trimmer)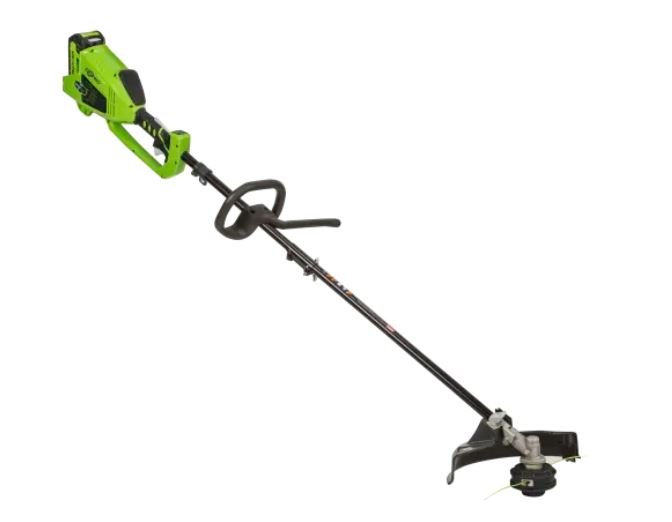 Greenworks has been making power tools since 2010 and is already a leader in battery-powered outdoor power tools. Their GW2100202 is one of the famous string trimmers in the market.
Offering a 14″ cut path with a .080 bump feed (head) makes it easy to advance within the line and cut through tough weeds.
A brushless motor technology provides some real gas performance, delivering greater torque, quieter work, and higher battery efficiency.
This model's battery is sold separately, which is a 40 Volts Lithium-Ion battery that comes in 3 capacities 2Ah, 4Ah, and 6 Ah.
The tool also provides a hassle-free push-button start, cruise control for precise speed control, and an attachment capable design that can accept attachments from multiple brands such as Ryobi, TrimmerPlus, Yardworks, and more.
In short, this workhorse string trimmer provides a true gas performance with no hassles or carbon emissions; since it is really powerful and solidly built.
Pros:
Robust motor
A 0.080 dual-line
4 years warranty
Cons:
The battery is sold separately
The package doesn't include an edger
The head is not rotating
5- Greenworks PRO GST80320 ( A Cordless Trimmer with The Power of a Gas Tool)
Some tools may claim to be gas-equivalent, but GreenWorks Pro tools can replace your gas equipment utterly.
The GST80320 string trimmer is equipped with a tremendous brushless motor powered by 80V Li-Ion technology, making it the highest voltage in the industry.
Not only that, it has a large 16-Inch cutting swath, 0.08-Inch line diameter, and a dual-line bump feed line advance for superior cutting performance. And the attachment capability also accepts most gas to attachments to provide multiple uses.
And just like the previous tool, the Li-Ion battery on this model needs to be bought with the charger separately, since it's not included in the box.
However, one good thing about the battery is that it only takes 30 minutes to get the fully charged 2.0Ah, while offering up to 45 minutes of run time.
Although the tool is relatively heavy, the string trimmer has a top-mounted motor with aluminum straight shaft, allowing for a superior balance and ergonomics while trimming.
Pros:
Very powerful
Fast charging
Easy to use
Warranty of 3 years
Cons:
Heavyweight (17 pounds)
The battery and charger are not sold with the tool
Buying all the necessary accessories can turn expensive
6- BLACK+DECKER LCC140 & LBX2040 (Powerful, Ergonomic and Inexpensive Kit)
The BLACK+DECKER LCC340C 40V MAX Lithium String Trimmer/Sweeper Combo Kit consists of:
An LST140 40V MAX String Trimmer/Edger, and an LSW40 40V MAX Sweeper.
The string trimmer with a cutting swath of 13". has the following features:
A PowerDrive Transmission which delivers more power from the motor to the cutting string so you can get the job done faster.
A PowerCommand offers you the choice between the max power to tackle thick weeds and the max runtime to increase battery performance.
An automatic feed spool, ensuring continuous work without having to stop to adjust.
This unit is also the most weightless among the previous trimmers, at just 4.7 lbs, and the sweeper at 3.7 lbs only while offering a quick blowing of debris with a low noise design for quiet operation.
The model features a 40V MAX Lithium-Ion battery that offers a longer lifespan, including a state of charge indicator that quickly allows the user to know the battery charge level. However, it may take a few hours to charge it fully.
Pros:
Powerful trimmer
Long-lasting battery charge
Highly ergonomic
Unexpensive
Warranty of 3 years
Cons:
7- WORX WG170 GT Revolution (A Lot Of Functionalities With A Low Cost)
The WORX WG170 GT Revolution Weed Trimmer has been particularly designed to be light and operational for everyone regardless of their fitness level, height, and gender.
It is a three-in-one trimmer that quickly transforms from a precision string trimmer into an in-line wheeled edger, into a mini-mower.
The timmer uses a 0.065″ line and a 12-inch cutting diameter that provides more trimming in less time. It might not be as powerful as gas power trimmers, yet it's enough power to cut grass and satisfy most homeowners.
The entire kit includes two 20V 2.0 Ah batteries; the whole battery life is expected to last about 40 to 50 minutes, which means each battery lasts around 20 to 25 minutes. The standard charger will take a few hours to charge them. So you can purchase a faster charger separately to save time considerably.
A major advantage of the Worx WG170 is its ergonomics.
Not only it's exceptionally lightweight (5.5 lbs with the battery attached ), providing better comfort to your arm. It is also highly adjustable, with its adjustable shaft length, the 90 degrees tilting head, and the auxiliary handle with seven different locking positions for ease and comfort.
You can effortlessly transform The WG170 GT Revolution grass trimmer into an edger and mini-mower. Both of the trimmer and edger perform excellent work. On the other hand, the mini-mower function does not work as great as them, but still a useful function.
Pros:
Converts from a trimmer to an edger and also a mini-mower
Adjustable height and angle
Lightweight
Quiet
Cons:
Short battery life
Long charging time
8- GreenWorks STBA40B210 (Best-In-Class and Also Our Favorite)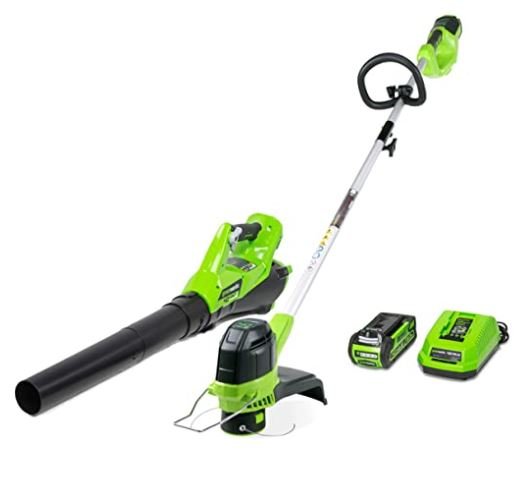 Anyone who's looking for a reliable weed eater for his mid-size to large yard; might find all he needs in the GreenWorks STBA40B210 which is a trimmer and blower combo pack.
The cordless string trimmer is an incredibly powerful unit, with a 12-inch diameter head that gives a wide path for cutting the grass, and an 0.065-inch line that will help you get your job done quickly and effectively.
The tool is operated by an interchangeable 40V battery with a real quick battery charging. And offering up to 45 minutes of run time with the fully charged 2.0Ah.
The tool is suitable for residential use, but can also be used for commercial purposes.
The 24v Axial Blower, features a variable speed trigger for optimized control, with an air speed of 110mph and an air volume of 390 CFM.
Since most blowers tend to be very noisy, this one produces way less sound and can be used for a longer duration without too much frustration.
Both the trimmer and leaf blowers have an excellent build quality, lightweight, easy to use, and comfortable thanks to the front-mounted motors which offer an optimum balance.
Overall, this string trimmer is high-quality and most importantly, apro at cutting down grass and weeds evenly and effectively. Together with the leaf blower, it makes for a winning combo for professional and casual users alike.
Pros:
Extremely powerful
Quick charging
Warranty: 4 Year on Tools, 2 Year on Battery
Cons:
Doesn't includes an edger
Pricey
Conclusion
With that, we have reached the end of our listicle and guide; hope you found it enlightening. We mindfully picked our favorite trimmers on the market. We reviewed them precisely for you, letting you know every advantage and disadvantage of each tool so that you can make your best decision. Now by considering the size of your yard, your budget, and how heavy a workload you'll be placing on your trimmer, you'll be able to find the model that's perfect for your needs among the list. Whether you need a powerhouse string trimmer to tackle the toughest weeds or a lightweight budget model for small yard maintenance, we hope this review has helped you find the perfect cordless string trimmer to match your yard work needs and budget.