When it comes to tools around a workshop, a die grinder is the jack of all trades. It allows you to switch between various tasks by switching seamlessly between a wide variety of bits.
Your best bet would be a good die grinder that does a couple of jobs really well and has good durability.
However, deciding on the best die grinder on the market may not be such an easy task. There are plenty of them that come in many variations. But to narrow it down, I've made a list of the best choices and drew a comparison between their pros and cons.
The 7 Best Die Grinders for 2021
1. WEN 2305 Rotary Tool Kit
If you want a die grinder with extreme flexibility, then WEN 2305 Rotary Tool provides the answer with its range of variable speed ranging from 8,000 RPM to 30,000 RPM with a simple turn of a knob.
You can use it to drill, cut, polish, trim, sand, design, and so much more. And you can do so by the simple change of attachments.
Moreover, it comes with a diverse package that provides a wide variety of discs and bits to allow you to meet the needs of any project you are working on. It's equipped with additional accessories, with even more than 80 different ones.
The WEN 2305 Rotary Tool being really light weighing only 3.5 pounds allows you to execute intricate and very delicate designs with much ease, giving you the ability to carve small and complex designs into glass, plastic wood, steel, and much more.
Finally, this die grinder also has an onboard spindle lock for quick tool changing.
Pros:
The WEN 2305 Rotary tool kit's price is lower than other rotary tools on the market
Comfortable to work with because of its lightweight
Users are able to get the most out of the tool thanks to its attachments
Features a powerful motor
Operates very quietly
Cons:
Some users have complained that their devices sometimes got overheated.
Requires to be oiled on a regular basis
Bottom Line:
I'd highly recommend the WEN 2305 kit for anyone who's a DIY enthusiast looking to progress and advance to a professional level. It's accurate, versatile, and very efficient.
2. Ingersoll Rand 301B Air Angle
The Ingersoll Rand 301B gives you easy access to tight and narrow spots thanks to its right-angle configuration, so you can grind, break sharp edges, deburr, port, and polish virtually anywhere. The Ingersoll Rand 301B Air Angle Die Grinder comes with a 0.25 HP motor that delivers a free speed of 21,000 RPM.
Moreover, it has a strong aluminum housing that withstands tough operating conditions.
Its balance is improved by its durable ball-bearing construction. The ball-bearing construction also minimizes the vibrations and ensures a longer life for your die grinder.
The Ingersoll Rand 301B has a small frame with dimensions of 5.3 x 1.3 x 2.9 inches, and it weighs approximately 1.1 pounds.
With such a lightweight and compact tool design, this grinder is perfect if you are going to be working in tight small spaces.
It's also a good choice if you have smaller hands as you would be able to wield this tool with much more ease than you would be able to use other die grinders.
However, having a smaller frame has a cost on the motor, meaning that this tool comes with less power than most of the tools available.
Pros:
Perfect for tight spaces and users with small hands
Lightweight
Reliable air die grinder
Cons:
Weaker motor
Too small if you have big hands
Bottom Line:
Economical, ideal for general-purpose grinding, and long-lasting, the Ingersoll Rand 301B air die grinder offers a variety of beneficial features in one compact package.
3. BLACK+DECKER RTX-6
The BLACK+DECKER RTX-6 rotary tool has three speeds, flip-lock spindle, a universal collet, a powerful motor, and a package full of accessories you will certainly find useful.
Moreover, it's designed to be perfect for various functions such as cutting, sanding, grinding, carving, cleaning, engraving, polishing, sharpening, drilling, drywall cutouts, smoothing, shaping, slotting, and removing rust and corrosion.
One of its most impressive features is the three-speed setting. You have the option to choose between 12,000 rpm, 24,000 rpm, and 30,000 RPM.
Its motor is a powerful 2-ampere motor and has double the power and torque of its competitors. This allows you to get your job done quickly and efficiently.
It also ensures that the materials you're working with will never get bogged down.
Additionally, the flip-lock spindle lock feature is a proprietary locking mechanism. This feature facilitates the change of tools for you. All that is required of you is just to flip of the lock.
You get 26 accessories with the BLACK+DECKER RTX-6 rotary tool enabling you to do different jobs. The grinder also has a universal collet which means that it can fit a wide range of tool heads from small sizes of 1/32 to larger sizes of 1/8.
Pros:
Multiple tool heads
Universal collet
Carry-around bag increases portability
Three-speed setting
Cons:
The RTX-B package is similar with a slightly lower price
Lacks good quality control
Bottom Line:
If you are someone who frequently works with various metals, you will find the BLACK+DECKER RTX-6 rotary tool to be really useful. With a powerful motor and variable speeds, it'll efficiently tackle any job no matter how tough.
4. Makita GD0601 Electric Die Grinder

The Makita GD0601 is engineered with a powerful AC/DC motor that provides a fixed speed of 25,000 RPM, all with compact body design. You can toggle the AC/DC switch to use it with alternative power sources.
A slide switch that turns the unit on or off is conveniently located on the grinder's body. Combining all of these features with the powerful motor makes the Makita GD0601 ideal for quite a large range of grinding tasks.
It's built with an industrial motor of 3.5 amperes housed with front and rear air vents to make sure it never overheats and cooler running under continuous use, extending the grinder's life.
Also contributing to extending the grinder's life is the motor protection feature that protects the motor from debris. Moreover, the motor and bearing are sealed with a labyrinth construction, creating a complex set of channels.
The armature is also sealed by a protective zig-zag varnish that creates a barrier under rotation, effectively preventing contamination.
Pros:
Very lightweight
Ergonomic grips
Easy to use
Cons:
Difficult to use for users with larger hands
Fixed speed
Bottom Line:
The Makita GD0601 is a ¼-inch die grinder that combines power and speed with a motor protection feature that improves its grinding performance. If you're looking for something light and easy to use, this one's definitely the grinder for you.
5. DEWALT DWMT70783 Straight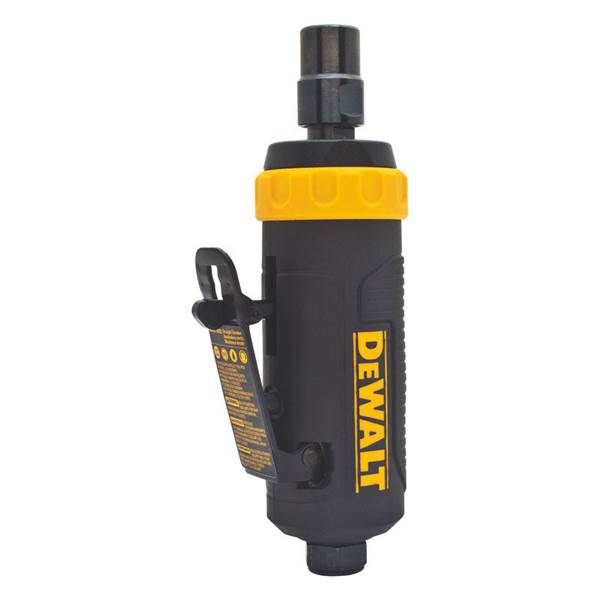 Carrying the manufacturer name DeWalt, The DWMT70783 Die Grinder is sure to be a die grinder that combines both high quality and great power.
With a 25,000 RPM operating speed and compatibility with both a 1/4 -inch and ⅛-inch collet, this grinder gives you versatility and strength.
It features a body made of hard aluminum designed for higher durability.
Moreover, a touch control system is also featured, making operations easier and more intuitive..
As for the safety features, it features a safety throttle lever system. DeWalt DWMT70783 Straight Die Grinder directs all the exhaust produced away from the tool using its rear air exhaust system.
An ergonomically designed cushion grip is included as a feature in this grinder design, which enables you to work with it for extended periods.
This unit is definitely highly recommended for all users, thanks to the power and quality it delivers.
Pros:
Provides great power
A convenient paddle switch
Perfect handling of professional grinding
Cons:
Ergonomics aren't really great
Fixed speed
A bit bulky
Bottom Line:
There are many die grinders in the market, but what makes the DeWalt DWMT70783 Die Grinder stand out is its extreme versatility and ability to deliver a huge range of functions at a price that doesn't break the bank.
6. Chicago Pneumatic CP860 Air
The Chicago Pneumatic CP860 Air a heavy-duty tool yet a lightweight one -which is a huge advantage.
The lightweight design is achieved by a frame with dimensions of 4 x 3 x 8 inches and a weight of 1.26 pounds.
The motor is energy-efficient and is 0.5 HP, so it can offer a top speed of 24,000 RPM and it comes with a ¼ inch collet.
One thing that the Chicago Pneumatic CP860 Air opposes other air grinders from its class is how the model has a handle with a squared design, this makes the model extra secure for the user's grip, increasing his safety.
The trigger is also adjustable to the task, and beneath it, a throttle brake is installed. The burr position is set at a zero degree, qualifying the grinder for cutting heavy metals since you can replace the standard drill burr with a circular saw.
Moreover, the gas exhaust is positioned at the back, eliminating the need to worry about spark dispersion or dust blowout while you are working with metal.
To make operation more convenient, the built-in regulator automatically matches the speed to the task you are doing.
The only problem with the CP860 is that the exhaust vent is placed oddly, instead of blowing out the front it blows back towards the user.
Pros:
Powerful motor
Speed is adjustable
Really lightweight
Cons:
The exhaust placement is odd
Bottom Line:
The Chicago Pneumatic CP860 Air is an extremely popular choice for engineers and professional machinist. It's a great choice for porting and relieving engines, high-speed polishing, grinding, and cleaning tire moldings.
7. Milwaukee 2460-20 M12
The Milwaukee brand is extremely unique and the Milwaukee 2460-20 M12 is a great example of the perfected products that are provided by this company.
The Milwaukee 2460-20 M12 is a very powerful model and one of the fastest rotating models on the market, providing speed that reaches a maximum of 32,000 RPM.
It's a cordless model, which means it uses batteries, and the ones it uses are Milwaukee's 12V batteries.
Its collet is the standard size of 1/8 inch, providing you with the option to match other brand's accessories on your unit rather than limiting you to Milwaukee's attachments exclusively.
Finally, the Milwaukee 2460-20 M12 is 5.4 x 13.3 x 2.5 inches, and it is slightly over a pound weighing 1.15 pounds. This makes it one of the most lightweight grinders on the market.
Pros:
High Versatility
Easy to use
Durable
Powerful MotorLong-life batteries
Cons:
Fixed speed
No extra accessories
Bottom Line:
It is a tool designed for long life as it withstands pressures, is durable, and is one of the most user-friendly grinders on the market. If you don't require a lot of grinder accessories and want a durable tool that can withstand pressures, this user-friendly tool would suit you well.
How to Pick a Die Grinder?
When it's time to pick a die grinder that suits your needs, there are a couple of things that you should look for, and these are as follows:
Corded vs. Cordless
This matter is more of a personal preference thing. If you prefer continuous running time and know you'll be working in a place with an electric outlet, go for a corded model.
However, if you're looking for portability and want to work from any location with ease, go for a cordless one.
User Friendliness
The grinder you choose should be easy to use according to your standards. You should read the product specs as well as take a look at existing product reviews.
Speed Control
Die grinders mostly have a single-speed operation –which is the full speed of the grinder. If you're working with soft surfaces such as wood boards, you should look for ones with lower rates. Contrarily, harder surfaces need quicker speeds.
CFM and PSI Ratings
These ratings are important if you're going to go for a pneumatic die grinder. You should make sure that your grinder can provide enough CFM or pressure level at the appropriate PSI.
What are the Uses of Die Grinders?
These versatile tools have endless uses. It just depends on the strength of the motor and the kind of blade wheel you're using. Here are the things you can do:
Sharpening and polishing metals and metal tools such as shovels
Cleaning metals
Cutting steel and masonry
Cutting tiles, stone, and concrete
Sharpening edges
Removing old mortar from bricks
Electric vs. Pneumatic Die Grinders
The basic difference between the two variants is how they run. Electric die grinders obviously rely on an electric source to operate, whereas pneumatic ones rely on an air compressor.
Pneumatic die grinders can be a little stronger than electric die grinders, but the latter are more maneuverable and portable.
Final Thoughts
Each of the options on the list can be considered the best die grinder on the market, yet, there are some that are superior in multiple ways.
For example, the BLACK+DECKER RTX-6 2 Amp 3-Speed Rotary Tool with 30 Accessories and 2 Sp comes at an affordable price but also delivers three speeds that give you a high degree of versatility.
The DEWALT DWMT70783 Straight is the best choice for someone who's looking for the most portable and lightweight option.
Finally, you should opt for the WEN 2305 Rotary Tool Kit with Flex Shaft if you're looking for a very compact unit that is the most affordable.