Unlike wood, plastic, and other softer materials, drilling through metal is a tricky task. For that reason, finding drill bits that can cut through those hard materials such as stainless steel, iron cost or titanium; without breaking or failing in the first place, might be challenging for many workers. Including that choosing the right drill bits from the uncountable number of products in the market is not that simple. From this standpoint, we are writing this article offering you a list of reliable Drill Bits Sets to help you in drilling your metallic workpieces with ease.
10 Best Drill Bits for Metal for 2020
01. DEWALT Drill Bit Set DW1354
The famous DeWalt never deceived their clients with the high quality of the products they make. Their DW1354 set is the most purchased drill bits Set on Amazon by far.
The set comes with 14 pieces organized in ascending order, with a hard carrying case to keep the accessories well organized and practical to carry it around.
The bits are coated with titanium offering longer life, with tapered web design for ultra durability. With the no-spin shanks, you can also be confident of getting superior drilling results since the bits will not slip.
The power tool accessories will drill clean through metal without leaving burrs, featuring titanium pilot point tips that allow the bits to cut on contact and prevent walking.
Highlighted Features of the DW1354: 
The set includes the following bits: 1/16″ (2); 5/64″; 3/32″; 7/64″; 1/8″ (2); 9/64″; 1/2″; 3/8″; 5/16″; 1/4″; 3/16″; and 5/32″.
Titanium coating serves to extend the life of the power tool accessories.
Breaking reduced thanks to tapered web design.
The bits don't start spinning until they contact the surface.
The power tool drill bits work pretty well on plastic, wood, and metal.
02. COMOWARE Cobalt Drill Bit Set
The robust COMOWARE Colbat Set comes with very high quality and solidity that allows the bits to drill through hardened metal with complete ease. These drill bits are grade M35, which means they contain 5% cobalt. That makes it excellent for drilling through hard materials such as stainless steel, cast iron, high-temperature alloy, titanium alloy, hard plastics, and woods, and also can be used for softer materials.
The cobalt in them also increases the bits working life significantly compared to regular HSS bits.
The Bits have 135-degree split point tips that provide impressive penetration capacity. The tip angle also allows the self-centering of the bits to eliminate walking. This way, your work becomes more manageable while drilling through hard materials.
Besides their solidity, the bits are also coated with gold oxide, making them strong enough to drill quickly through hard and soft materials.
The set comes with a total of 15 pieces ranging from 1/16 inch to ⅜ inch. And unlike many of his rivals, COMOWARE offers various lengths of the bits, depending on its diameter. The complete package comes arranged securely in a plastic box.
Highlighted Features of the COMOWARE Cobalt Set: 
The M35 grade makes the drilling through sturdy materials a piece of cake.
Gold oxide coating provides more strength to the bits against hard materials.
135-degrees split point.
High heat resistance.
Spiral flute with straight shank provides great performance.
Secure plastic case.
03. Bosch TI18 Titanium Metal Drill Bit Set
Bosch is a great brand that has been around since 1886. The German technology company is well-known for building high-quality products. And their TI18 Titanium Metal Drill Bit Set is not an exception.
The set contains 18 pieces of different sizes in an organized toolset. Those bits come in jobber length, with a titanium tip, making them strong enough to take on tough surfaces. Besides the split-point bit, that makes sure you get an accurate and clean start.
The No Skate tip does not need any center punch to get started. Moreover, the spiral double flute design prevents wobbling and irritating noise while providing an exit passage for chips.
You can use this set for general drilling applications. It works well against light gauge metal, high carbon steel, plastic, and wood.
Highlighted Features of the Bosch MS4091 Mixed Set:
The sizes included: (1) 1/16″, (1) 5/64″, (1) 3/32″, (1) 7/64″, (2) 1/8″, (1) 9/64″, (1) 5/32″, (1) 3/16″, (1) 7/32″, (1) 1/4″, (1) 5/16″, (1) 3/8″, (1) 1/2″
Titanium coating.
Double flute design, allows for clean drilling.
Tri Flat design, allows the chuck to hold tightly onto the shank.
Secured storage plastic box.
04. Neiko 10193A Titanium Step Drill Bit Set
The Neiko 10193A is the ideal set for anyone who's looking for a multipurpose tool kit. Given that it's convenient for making a wide range of hole sizes.
The whole package consists of three step drill bits, constructed from high-speed steel coupled with a titanium coating. Providing faster drilling through hard materials and more extended durability for the bits.
Besides, the 135-degree split point increases the cutting efficiency and reduces the walking. You can even go through multiple drilling operations without losing sharpness and efficiency.
The set also features a two-flute design, which lets the particles escape easily when drilling through the material for much more clean drilling on all of the aluminum, stainless steel, copper, and many other types of sheet metal.
Highlighted Features of the Neiko 10193A:
The Set Replaces 28 Individual Drill Bits
TRI-FLATTED SHANK function, which eliminates slip by making the bits fits into power tools chuck securely
Two-Flute design for clearer drilling
The 135-degree split point, increasing cutting efficiency
The set contains:
3/16″ to 1/2″ Six-Step Bit (3/16″, 1/4″, 5/16″, 3/8″, 7/16″, 1/2″)
1/4″ to 3/4″ Nine-Step Bit (1/4″, 5/16″, 3/8″, 7/16″, 1/2″, 9/16″, 5/8″, 11/16″, 3/4″)
1/8″ to 1/2″ Thirteen-Step Bit (1/8″, 5/32″, 3/16″, 7/32″, 1/4″, 9/32″, 5/16″, 11/32″, 3/8″, 13/32″, 7/16″, 15/32″, 1/2″).
05. IRWIN Cobalt Drill Bit Set 316015 
Away from the occasional use, we'll be discussing a product dedicated to workers who hustle with their drill machine every day, and in need of something more vigorous. Far off the normal drill bits, the IRWIN 316015 Set endures the severity of daily drilling processes.
This robust set comes with 15 drill bits of varying sizes, which penetrate tough surfaces like hardened steel, stainless steel, and cast iron with ease. Thanks to the bits being manufactured from M-42 High-speed steel, which contains 8% cobalt. Making it highly abrasion and heat resistant.
The IRWIN 316015 is designed for high demanding jobs and is also one of the best drill bits for hardened steel.
Highlighted Features of the IRWIN (316015):
The bits are constructed of 8% cobalt, increasing toughness, and heat resistance.
Titanium tip extending the life of the bits.
The 135 degrees split point minimizes the walk and cuts with less effort.
The set includes 15 pieces from 1/16 inch to ⅜ inch.
The whole package comes well organized in a secure box.
06. DEWALT DW1361 Drill Bit Set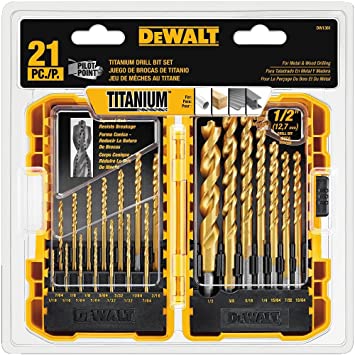 Unlike any previous, this DeWalt Drill Bit Set has a five-star rating on Amazon, which already tells you good things about it.
Each piece in this set is equipped with a titanium pilot point that ensures longer life and makes the drill bits strong enough to go through hard materials such as metal.
The bits do not start drilling until contact, which increases the drilling accuracy and reduces the risk of the annoying slipping.
The tapered web of each drill bit in this set is designed to offer reliable durability, which is the trademark of DEWALT quality.
The set offers a significant number of these high-quality bits, organized in ascending order, so you can easily choose the suitable size for your work.
Highlighted Features of the DEWALT DW1361 :
The kit comes with 21 pieces that range between ⅙ inch and ½ inch.
Made of high-quality steel along with titanium tips.
Tapered web increases the durability of the power tool accessories.
The No Spin Shank attaches tightly to the chuck to prevent the wobbling during the drilling.
Titanium tips increase the capability of drilling through metal with ease.
07. DEWALT DWA1240 
Another fine product of the famous DeWalt is DWA1240. It is a cobalt drill bit set of 14 pieces, designed for maximum speed and life in hard metals. The bits in this set are grade M35 that contains 5% cobalt, which makes them extra resistant against metal.
Besides, they feature a split-point tip that starts drilling on contact with the surface and removes the walking for more control.
It also includes a pilot point feature that helps to reduce clogging and lock-ups while drilling. And a 135-degree angle for enhanced stability.
In sum, this set is ideally made to cut through metals such as titanium, stainless steel, iron cast with ease along with maintaining a way longer life than standard bits.
Highlighted Features of the DEWALT DWA1240:
high build-quality (made from cobalt).
The pilot point tip starts on contact performing accurate and clean drilling.
No walking.
Work pretty well on tough materials.
The set covers 14 pieces in the following sizes: (2) 1/16″ bit, (1) 5/64″ bit, (1) 3/32″ bit, (1) 7/64″ bit, (2) 1/8″ bit, (1) 9/64″ bit, (1) 5/32″ bit, (1) 3/16″ bit, (1) 7/32″ bit, (1) 1/4″ bit, (1) 5/16″ bit, (1) 3/8″ bit.
08. EnerTwist Titanium Drill Bit Kit Set
If you work daily with your drill and tend to break and lose many pieces in the workshop, which leaves you out of some sizes that you still need to use, EnerTwist came with a solution that no other brand in the industry did yet.
The original thing about this product that made it reach our list, is that each piece in the case comes with multiple copies of it. It implies that even if you lose a drill bit in the mess of your working place, you would still have in your case numerous pieces of the same drill bit to use.
This is a life-changing for some, and undoubtedly will save you plenty of time and money, since the whole package comes at an affordable price considering the number of the pieces in it.
The drill bits are made from high-grade high-speed steel plus a titanium coating, ideal for drilling through mild steel, Copper, Aluminum, Zinc alloy, and other metals. On the other hand, do not use it when dealing with concrete and masonry.
A 135-degree angle is included to prevent walking and offers a longer life to the tools.
Everything comes well-organized in an easy carrying solid plastic case, and weight 4.56 pounds only.
Highlighted Features of the EnerTwist Drill Bit Kit Set:
The package includes a total 230 pieces in the following sizes: 28*3/64, 27* 1/16″, 27* 5/64″, 27* 3/32″, 20* 1/8″, 20* 9/64″, 10* 5/32″, 10* 11/64″, 12* 3/16″, 10* 7/32″, 8* 15/64″, 12* 1/4″, 8* 9/32″, 2* 19/64″, 3* 5/16″, 2* 21/64″, 2* 23/64″, 1* 3/8″, 1* 1/2″.
Titanium coating for extra durability.
135 degree split point increases cutting speed.
Parabolic flute form, helps clear derbis away and improves the cooler drilling process.
09. Chicago Latrobe 57850
Chicago-Latrobe is a Greenfield Industries brand, which offers a wide selection of drills for general purpose and specialty applications.
The one we came with is a set of 29 cobalt jobber-length drill bits, designed to be harder, more wear-resistant than HSS jobber-length drill bits, and can tolerate higher drilling speeds.
These power tool accessories can go through the hardened steel like butter, by dint of the cobalt they are made from.
As if that weren't enough, they also come with a gold oxide finish, which provides the most incredible resistance on ferrous materials, and an extra thick webs to increase rigidity.
They also have a self-centering 135-degree split point feature, which helps the bit penetrate hard materials without a pilot hole.
These functionalities and high-quality materials make this set way more expensive than average drill bits. But its durability makes it definitely worth the money.
Highlighted Features of the Chicago Latrobe 57850:
The bits are made with Cobalt steel.
Gold oxide finish lubricates and offers wear resistance on ferrous materials.
135-degree split point produces small debris and drill without the need for a pilot hole.
Thick web, for increased strength, compared to standard drill bits
The sizes included are 1/16″, ½", ¼", ⅛", 11/32″, 13/32″, 15/32″, 3/16″, 3/32″, ⅜", 5/16″, 5/32″, 7/16″, 7/32″.
10. Bosch CO14B
The CO14B set contains 14 drill bits that work extra well against metals, thanks to their solid construction. The bits in this model are engineered with upgraded M42 alloy, containing 8% Cobalt which gives them ten times longer life compared to the regular bits. They also resist high-heat applications. The jobber length bit starts drilling as soon as you apply a gentle force, without the need of making a pilot hole. While the bit makes small debris that won't clog the hole you're drilling.
These features make these Cobalt drill bits provide superior performance on metals such as stainless steel, cast iron, titanium, and many more.
Highlighted Features of the BOSCH CO14B :
The set contains 14 pieces in the following sizes: (1) 1/16″, (1) 5/64″, (1) 3/32″, (1) 7/64″, (2) 1/8″, (1) 9/64″, (1) 5/32″, (1) 3/16″, (1) 7/32″, (1) 1/4″, (1) 5/16″, (1) 3/8″, (1) 1/2″.
Cobalt M42 drill bit provides more vigor and durability than standard ones.
The hardened tip surface helps to penetrate abrasive metal.
The thick web-helix design provides additional stability in severe applications.
The whole case weighs 1.06 pounds only.
What type of Drill Bits to use for metal?
Not all drill bits can be used on metal without heating up and snapping in half.
Regarding metal, there are two types of drill bits that you can count on for metalworking projects: titanium and cobalt.
Titanium (Finish):
Drill bits made with a Titanium nitride coating resists abrasion and friction. It also increases surface hardness and does a good job of reducing heat while drilling through metal. These are the bare minimum for metal drilling.
With titanium nitride, you have to remember it only coats the bit. You will have to replace them as soon as the coating wears off the cutting edges. It's also better not to use these bits for drilling hardened steel or stainless.
Cobalt (Steel Blend):
Cobalt drill bits are made to last. They're constructed with a rigid mixture of steel and cobalt.
You can buy drill bits with different cobalt concentrations: The M35-grade cobalt drill bit set contains 5 percent cobalt (like the previous COMOWARE Colbat Set), whereas M42 grade cobalt drill bits contain 8 percent cobalt (such as Bosch CO14B).
Even if cobalt drill bits are more expensive than the rest, the durability they provide is worth the money. They're also well-made and tough, which means they will not dull quickly. Cobalt drill comes in a goldish color, making them easy to spot amongst your tools.
Drill bit size chart pdf
Conclusion
Now that you read all the recommendations plus the tips we gave you about The Drill Bits for Metal. Remember that our list covered models for both occasional and professional daily use. Therefore, before making your purchase, you need to consider:
How much work you need to do with these bits, along with your budget for it.
On top of that, the most important aspect you need to remember while buying a drill bit set is your drilling material. If you're going to drill any thin metal sheets, a thin bit can do this very well. But drilling thick steel workpieces need stronger types of bits like those we mentioned at the bottom of the list. We came to the end of our review, hope this article was helpfully enlightening