The process of selecting one thing to buy, among other items, can be really confusing. So, if you find the "Dewalt DW745 vs. Dewalt DWE7480" frustrating, it is totally normal.
Since we know that you have probably been reading about each one of them for some time, we decided to compare between them, so that you can clearly see their similarities and differences.
Go on reading, and hopefully, by the end of the article, you will have made your mind.
Short Answer:
Dewalt DWE7480 is more potent than Dewalt DW745 because its blade spins faster than that of Dewalt DW745. 
Moreover, it has a higher cutting capacity.
So, I would say that the Dewalt DWE7480 is a better choice.
Dewalt DWS745 vs DWE7480 – Full Comparison 
Power
You can use Dewalt DW745 with tough tasks like cutting hardwood and pressure-treated lumber thanks to its 15-ampere motor that has high torque.
Moreover, its blade -10-inch sized- that spins at a no-load speed of 3850 rpm, helps Dewalt 745 produce clean cuts.
The above features enable Dewalt DW745 to handle any tough job that you may face with perfection.
Similarly, Dewalt DWE7480 has a 15-ampere motor. However, its blade spins at 4800 rpm. This makes ripping through hardwood a very easy task.
Portability 
Dewalt DW745 is the most portable saw in its class. It weighs only 54 pounds, so you can easily transfer it from one job site to another.
Having a portable saw is exceptionally beneficial because it does not limit your work task to a specific place. Whenever you get called for a job at any location, you can just pack your Dewalt DW745 and get the job.
Moreover, since Dewalt always thinks about the comfort of its users, Dewalt DES745 also has onboard storage that provides easy access to the Site-Pro Guarding components and the push stick when they're not in use.
Quite similarly, Dewalt DWE7480 weighs 53.7 pounds. There is not much difference regarding their weight, so they are both portable.
Similar to Dewalt DWS745, Dewalt DWE7480 has onboard storage.
Dust and Cleaning
Dewalt DW745 and Dewalt DWE7480 come with a 2-1/2-inch dust collection port that enables you to connect them to a shop-vac. That way, you minimize the amount of dust that you should collect after you finish working.
This is also great because it protects your lungs from inhaling too much dust.
Guarding System 
Thanks to the versatile Site-Pro Modular Guarding System, you can easily set up a variety of applications on Dewalt DW745 and Dewalt DWE7480 because this system allows tool-free adjustment of application-specific guarding components.
Moreover, Dewalt DW745 comes with a large rip capacity because its exclusive fence configuration enables a huge 20-inch rip capacity. The fence adjustment is smooth and accurate, thanks to the rack and pinion fence rails.
The telescoping design of the fence enables the rails to move out to 20 inches so that they can rip full sheets of materials. They can also retract for a compact design that is easy to transport.
It allows a cut depth of 3-1/8 inches at 90 degrees and 2-1/4 inches at 45 degrees.
It also has a quick bevel lock with a large scale that allows for easy and accurate adjustments.
On the other hand, Dewalt DWE7480 has a rip cutting capacity of 24-1/2 inches. That way, it can cut a variety of more extensive shelving and trim materials.
Similarly, it features rack and pinion telescoping fence rails that make the process of fence adjustment easy and smooth.
Moreover, Dewalt DWE7480 has rear feet to enable you to level the saw on uneven surfaces, which eliminates the probability of the saw falling.
Design
Dewalt DW745 comes with a metal roll cage base. Such metal base is better than plastic ones because it provides a sturdy setup and improves durability. It also protects the saw from Jobsite drops and impacts.
Moreover, the table surface of Dewalt DW745 and Dewalt DWE7480 is coated to reduce friction to produce an improved cut quality across the board.
Dewalt DW745 has an overload protection system that ensures powerful performance in hard, wet, or frozen woods.
Blade 
The blade of Dewalt Dw745 and Dewalt DWE7480 can be adjusted 0 to 45 degrees for bevel applications.
Regarding Dewalt DW745, the maximum rip to the left of blade is 12 inches, and the maximum rip to right of blade is 20 inches.
Dewalt DW7480 has a 24-tooth carbide blade that enhances the cutting quality and makes the blade more durable.
Weight: 
Dewalt DW745: 54 pounds
Dewalt DWE7480: 53.7 pounds
Speed: 
Dewalt DW745: 3850 rpm
Dewalt DWE7480: 4800 rpm
Voltage: 
Dewalt DW745: 120 volts
Dewalt DWE7480: 120 volts
Power Source: 
Dewalt DW745: corded-electric
Dewalt DWE7480: corded-electric
Dimensions: 
Dewalt DW745: 22.7 x 29.2 x 16.7 inches
Dewalt DWE7480: 25.8 x 26.5 x 13.9 inches
What We Like And Do Not Like about Dewalt DW745 and Dewalt DWE7480: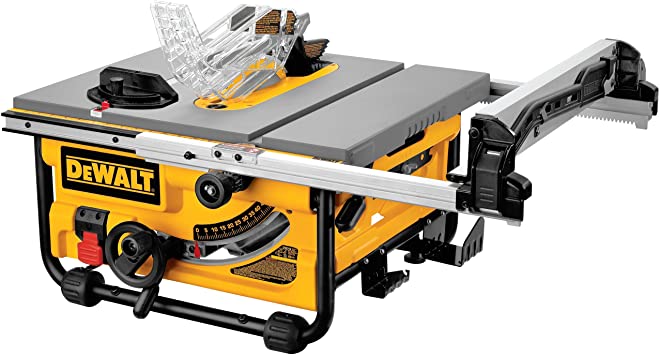 Dewalt DW745
Pros:
Dust collection port
Portable
Durable metal roll cage
15-ampere motor
3850 rpm
Three-year limited warranty
Cons:
The blade might become difficult to turn
The blade might not be smooth
Dewalt DWE7480
Pros:
Dust collection port
Portable
24-tooth carbide blade
Stable on uneven surfaces
Three-year limited warranty
Higher rip capacity
Cons:
What Is In The Box:
Dewalt DW745:
DW745 DEWALT 10-Inch Job Site Table Saw
10-inch 24-tooth carbide blades
Miter gauge
Push stick
Blade guard.
Dewalt DWE7480:
Miter Saw
Miter Saw Gauge
Push stick
10-inch Carbide Blade
Blade Guard
Dewalt DW745 VS DWE7480: Which One to Choose?
Indeed, the two models have a 15-ampere motor, yet the blade of Dewalt DWE7480 spins at a higher level than that of Dewalt DW745. This extra speed is highly appreciated.
Moreover, the rip cutting capacity of Dewalt DWE7480 (24-1/2 inches) is higher than that of Dewalt DW745, so Dewalt DW745 is the winner here too.
All in all, the two saws are quite similar; however, I recommend Dewalt DWE7480 since it is more powerful and has a higher rip capacity.