Angle grinders are handy little tools that can help you finish so many tasks in your workshop or work site. But do you know what actually makes an angle grinder most functional? Are you confused between the many choices? In this article, I'll be comparing two of the best angle grinders –the DeWalt DWE4012 and the DWE402W- you can find on the market to help you decide which one you should get.
DeWalt DWE4012 vs DWE402W Motor and Power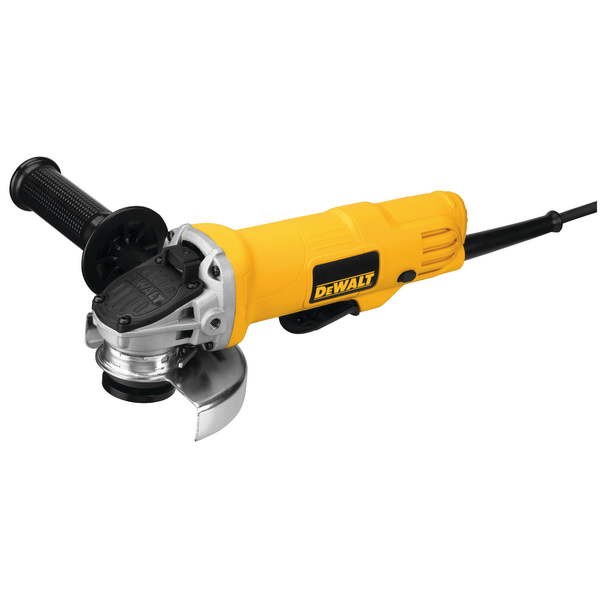 The DeWalt DWE4012 is a 4.5-inch angle grinder that's equipped with a 7.5 AMP motor capable of spinning its blade at speeds up to 12,000 RPM (rotations per minute). This fast grinding enables you to smoothen and cut metals as well as other difficult materials effortlessly. It also enables you to remove materials quickly with higher overload protection. On the other hand, the DeWalt DWE402W is an even more versatile 4.5-inch angle grinder that enables you to grind metal, cut tile, stucco, pavers, or even rout out mortars. Moreover, you can use your DWE402W to sand, polish, and sharpen tools such as coal shovels or cement ones. This is because it runs on a very powerful 11 AMP motor that spins its wheel at a speed that reaches up to 11,000 RPM. The corded grinder is capable of heavy-duty work, has solid construction, and comes with overload protection.
DeWalt DWE4012 vs DWE402W Design
The DeWalt DWE4012 comes with a one-touch wheel guard that you can adjust with a simple turn, without needing to push any buttons or pull any levers. With a 4.6 x 15.4 x 6.1 inches footprint, it also has a low profile, jam-pot gearcase that is very compactly designed. This allows you to fit your tool into tighter spaces. Moreover, it only weighs 5 pounds so it won't cause any strain or fatigue for your wrist. With a 6 x 4 x 15-inch footprint, the DeWalt DWE402W is slightly more compact than the DWE4012. However, it's a pound heavier. So, it may not be the better choice for extended periods of work.
DeWalt DWE4012 vs DWE402W Ergonomics and Ease of Use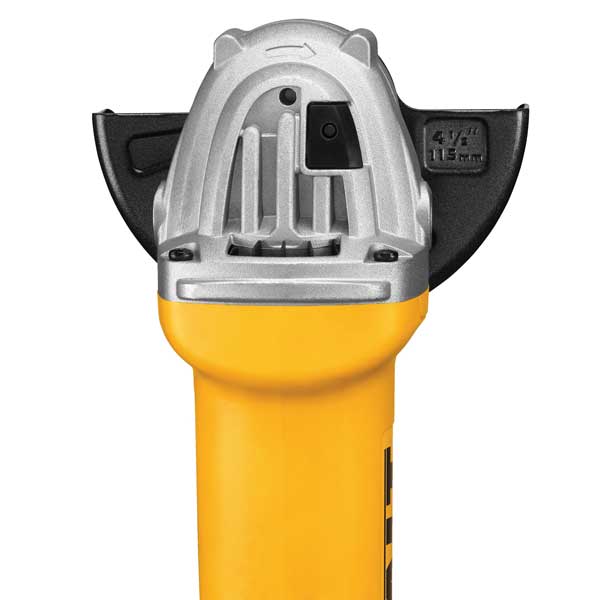 Moreover, the slim, ergonomic body and 2-position removable side handle work on maximizing comfort and usability. As for the wheel changes, you can easily do these using a hex wrench instead of a spanner one. This is pretty convenient as hex wrenches are more common and accessible. Additionally, the quick-change wheel release feature allows you to remove accessories without requiring any tools whatsoever. The DeWalt DWE4012 also comes with a 5/8"-11 spindle thread that is compatible with a wide range of 4.5-inch accessories.
On the other hand, the DWE402W is compatible with many wheels and accessories thanks to its spindle washer and spindle nut. Both can be installed in different configurations to accommodate thin and thick wheels. The DeWalt DWE402W comes with a one-touch guard that enables you to rotate the grinder 360-degree in one swift movement. And while the process of changing accessories and blades can be tedious –especially when repeated several times, it's quite easy on the DeWalt DWE402W as it comes with a quick change wheel. It even enables you to make changes without requiring any tools.
DeWalt DWE4012 vs DWE402W Dust Extraction and Safety
A big con about the DeWalt DWE4012 is that it doesn't come with a dust extraction system, so you need to be working in a wide area. This is a little harder when you consider that it's a corded tool, which reduces maneuverability. To keep you safe, the DeWalt DWE402W's paddle switch comes with a lock-off system. This addition prevents accidents like accidental starting up.
Moreover, the two oversized brushes have improved performance and are a lot more durable. Not only that, but the DeWalt DWE402W has a large-sized spiral bevel gear to extend the transmission life of the angle grinder. It also has a dust extraction system that kicks out any dust or debris and prevents them from entering the tool's vents. This helps extend the grinder's lifespan and provides a more visible and tidy workspace for the user.
What's included with the Angle Grinder?
With the DeWalt DWE4012, you'll get the following:
2-position side handle
Depressed-center wheel
One-touch guard
Hex wrench
With the DeWalt DWE402W, you'll get the following:
A 2-position side handle
A 4.5-inch one-touch T27 guard
A 4.5-inch abrasive wheel
DeWalt DWE4012 vs DWE402W: Which is Better Overall?
Both the DeWalt DWE4012 and the DeWalt DWE402W are pretty great additions to your arsenal. But if you're looking for a more affordable option, go for the DWE4012. Although it's budget-friendly, it's still reliable and offers plenty of helpful features.
However, it's not as powerful as its rival and has a crucial element missing: the dust extraction system. On the other hand, the DWE402W is a much more powerful choice that gives you more versatility and functionality. However, it's also a little heavier and comes at a considerably higher price.
More about Angle Grinders: