Hitachi G12SR4 vs Bosch 1375A? Do you want to add a versatile tool to the arsenal you have at your workshop or garage? An angle grinder is one of the best options you can go for. And both Hitachi and Bosch are known for making some of the best power tools, including these two angle grinders – the Hitachi G12SR4 and Bosch 1375A- that you're bound to find on any list of the best angle grinders. But which one should you buy? Through comparing the features, you'll have a better understanding of the pros and cons of each and then recognize which one is more suitable for your needs.
Hitachi G12SR4 vs Bosch 1375A – Full Comparison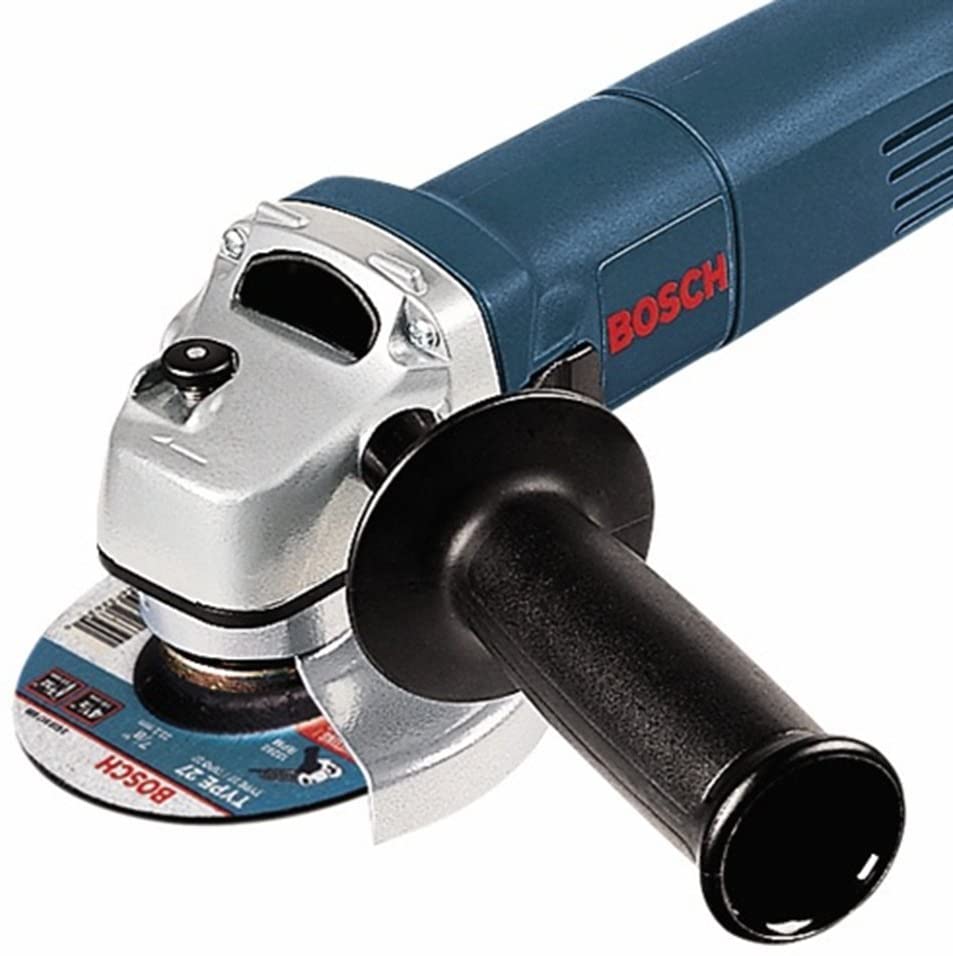 Design
At only four and a half inches and around 3 pounds, the Bosch 1375 will help you finish projects around your workshop without being a burden to carry, transport, or store. It measures 14.4 x 5.2 x 5.2 inches.
On the other hand, the Hitachi G12SR4's dimensions are 10 x 4 x 4 inches, which is more compact. However, it's a whole pound heavier than the Bosch 1375.
So while the Hitachi G12SR4 is easier to maneuver, the Bosch 1375 is easier to work with for extended periods of time.
Safety Features
Moreover, it has a slide switch located on the left side of the tool to provide you with a safe operation as you can turn the tool off in an instant whenever necessary.
To be safe and durable, the Bosch comes with Epoxy-coated field winding and a sealed switch that prevents any dust or debris from entering into the internal workings of the tool.
Moreover, it has a burst-protection guard that provides the user with maximum security as they work on heavy-duty projects.
And to keep your tool in shape, the Bosch 1375 comes with the company's signature Service Minder Brush system that shuts off the unit when maintenance is required.
– Best Angle Grinders 2019 – Buyer's Guide
– The 6 Tips to Choosing an Angle Grinder
– Makita 9557PBX1 Angle Grinder Review
– Milwaukee 2780-20 Angle Grinder Review
Motor and Speed
The Hitachi G12SR4 comes with a powerful motor that can produce 980 watts of power. This makes it strong enough for heavy-duty grinding jobs.
It also allows you to work on several types of materials and finish different metals, including aluminum, bronze, and even steel.
Not only that, but the Hitachi G12SR4 can also grind slate, brick, marble, and synthetic resin. It's one of the best options for grinding welded selections.
The Bosch 1375, on the other hand, comes with a very powerful 6 amp motor that enables it to work at speeds up to 11,000 RPM. It's a very great option if you're looking for something to finish very heavy-duty tasks and professional-grade projects.
And although it's small, it can tackle materials as hard as masonry thanks to its dry diamond cutting wheel. You can use it to cut tile, stone, brick, and more.
Ergonomics
The Hitachi G12SR4's impressive power provides it with versatility and an ability to remove casting fin, grind welding selections, and much more.
This is because its spindle lock facilitates the changing process of discs and other accessories.
And while the Hitachi G12SR4 doesn't come with a wide variety of accessories, it's compatible with many, including wire brush attachments. Just make sure you follow the instructions before using accessories that you buy separately.
On the other hand, the Bosch 1375 comes with a dual-position side handle that's positioned naturally and conveniently to provide the user with the best control over their tool.
Its 5/8-inch to 11-inch adjustable spindle allows you to work with various popular accessories and attachments as well as change the wheels quickly and seamlessly.
Both the Hitachi G12SR4 and Bosch 1375 are equipped with a trigger that locks the tool on for continuous operation –this makes them more convenient than having to keep pressing down the button.
If you love working with no breaks or interruptions, either model will suit you very well.
Performance
The Hitachi G12SR4 comes with five abrasive wheels, so you'll have access to good quality grinding wheels whenever they're required. This variety is superior to most angle grinders that come with only one or two abrasive wheels.
The Bosch works with low vibration to give you the most stable performance. It's both compact and versatile yet very powerful and reliable.
It also comes with an excellent warranty option that guarantees the durability of the unit.
Which is Better the Hitachi G12SR4 or Bosch 1375?
Both the Hitachi G12SR4 & Bosch 1375 are very good choices if you're looking for a reliable angle grinder. But the slight difference in performance and features will help you choose the one that suits your needs better.
If you're looking for a more powerful tool that works with higher accuracy and strength, I'd recommend going for the Bosch 1375.
However, if you're looking for something more versatile that could work for DIY and professional jobs alike, opt for the Hitachi G12SR4.
More about Angle Grinders: