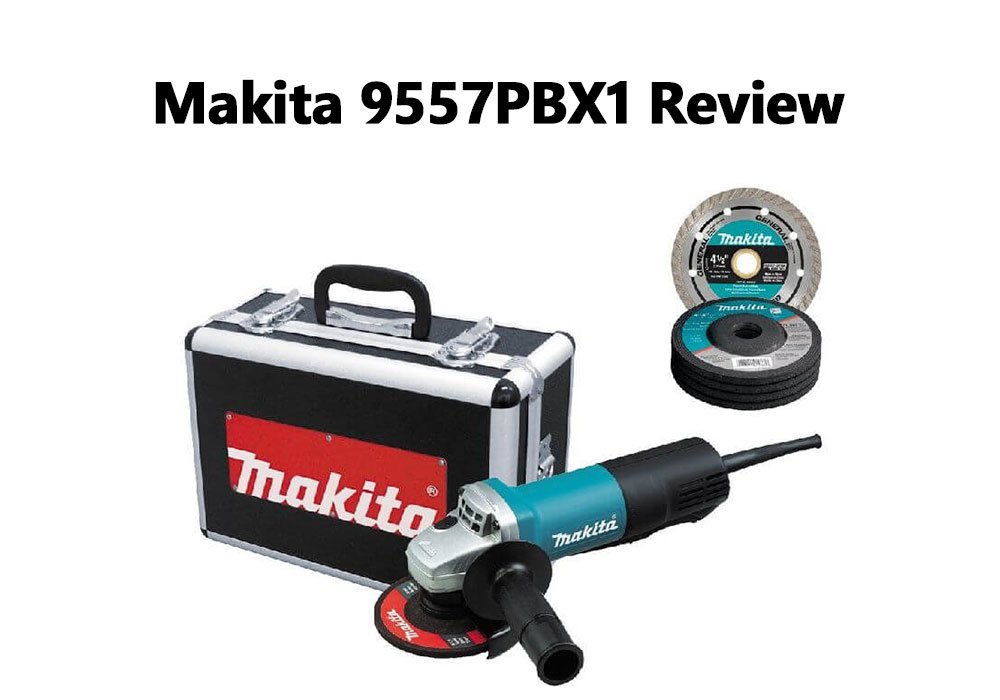 Every carpenter, blacksmith and construction worker can never do their jobs without an angle grinder. Although their jobs can be different, the angle grinders can do a lot of different situations.
Their versatile nature allows them to cut tiles, concrete, brush rust, and even sharpen metal tools.
In this article, we review a new yet robust angle grinder model in the market. The Makita 9557PBX1 4-1/2-Inch Angle Grinder is a great option nowadays. We analyze its features, design, pros, and cons to help you reach the best decision before buying Makita 9557PBX1.
Makita 9557PBX1 Design
This Makita grinder's design is ergonomic, compact delivering both efficiency and durability at their best.
The design allows a good grip for secure handling and protective zigzag varnish to prevent debris and dust from going into the grinder.
For even more comfortable using the paddle is extra-large. This model also features an electronic limiter that protects against overloads and heating of the motor. The wheel can be changed easily thanks to the new spindle lock installed.
Makita 9557PBX1 Features
This Makita angle grinder is a game-changer in the market. This tool is designed to meet the needs of all types of customers. It combines high-performance ergonomic design and affordable price.
Powered by a 7.5 Amp speed rotating at 11000 rotations per minute, you will get high efficiency and power on doing all kinds of jobs.
The advanced design features small tool diameter. This design makes the angle grinder more comfortable to use. This design also gives you a lot of control in tight areas and delicate jobs.
The Makita 9557PBX1 4-1/2-Inch Angle Grinder is a cord powered tool. Do not worry about any cord tearing and electrical hazards. The included cable is thick, high-quality, and designed for heavy duties.
– DEWALT DCG413B-20V Angle Grinder Review
– The 6 Tips to Choosing an Angle Grinder
Grinder's Case
The Makita company is doing its best to ensure a long life for your grinder, starting with a tough case. The case is coated with Egg-crate foam on the lid. The tool is surrounded by rubberized foam holding the tools in there place. The case lid does not open sufficiently to prevent its damage from hitting the surface.
The other contents of the case are exceptional as they including grinding discs, guards, and diamond blades.
The Makita 9557PBX1 operates with 4-½ inch wheels. This size is trendy and can be grabbed easily at any power tools store.
Performance
This angle grinder weighs only four and a half pounds. Thanks to its powerful 7.5 Amp motor, it can easily cut through steel, aluminum, concrete. You can use it also to grind rust of surfaces and to sharpen metal objects.
The Makita 9557PBX1 model is also designed to work on any angle, so doing jobs with an angle will not affect your product at all.
Makita 9557PBX1 will handle your projects easily round home. It is a must-have in your arsenal, and it can save you hundreds of dollars paid to professionals to do simple tasks in your house.
Safety
A major goal while using power tools like angle grinders is to keep yourself and others safe. You need to be familiar with angle grinders to use them safely. Otherwise, don't try to use any angle grinders alone and seek professional help.
As for the Makita 9557PBX1 model, it has many essential safety features. They include a protective guard to prevent sparks or flying parts from hitting you. Labyrinth construction of the design seals the motor safe against debris and dust.
Different Power Source.
It is always better to have more options. This Makita model includes the ability to change power sources according to your needs, type of project, and location.
It contains an AC/DC power switch that will allow you to switch between both sources to perform all jobs efficiently easily.
Price
The Makita 9557PBX1 is sold on Amazon for 77.95$ in a package containing the following items:
-Makita 9557PBX1 angle grinder tool.
-One four 1/2inches General Purpose Turbo Rim Diamond Blade A 94552.
-Five4 1/2 inches 24 Grit Grinding Wheels 741423-0-1.
-Aluminum case.
-Four 4 1/2 grinding wheels.
-Diamond wheel.
What we liked
-Excellent ergonomic design giving strength and durability.
-Multiple accessories are included with the tool, and they are easy to change and use.
-AC/DC power switch to change the power source easily.
-Reasonable price in comparison with competitors.
-High cord quality to prevent tear and wear.
What we did not like
-This model does not offer variable speeds; it is just an ON/OFF machine.
-The user experience of this model is difficult for beginners and amateur users.
-Several users have reported overheating and smoke when using the grinder for extended periods.
Final Words
The Makita 9557PBX1 we reviewed today is a real deal bargain. This tool will get the job done right in the best manner for a reasonable price.
If you have a good experience with grinders, this one will seem like a lot of upgrades to your armor. Otherwise, if you like to pursue other options as brushless motors or cordless grinders, you will have to invest a bit more in your new blender.