If you're looking for the best drilling and looking for professional work done in the shortest time possible. The WEN 4210 drill press is your perfect companion. It gives your work the best shape ever and makes your dream design come true! It is powered by corded electricity and 120 volts. Size of 8 inches and weighs 51 pounds; this makes the WEN 4210 drill give the best holing. It's very powerful, smooth, and accurate holing. You will never miss up the work. It's always ready for work and provides you with an amazing longtime non-stop work as the motor operates five different speeds. The most important part is the chuck, it's very sharp and perfect for holding any material: metal, wood or plastic. And it's suitable for long time work, it doesn't break easily, and the length is 12 -inches.
Wen 4210 Pros & Cons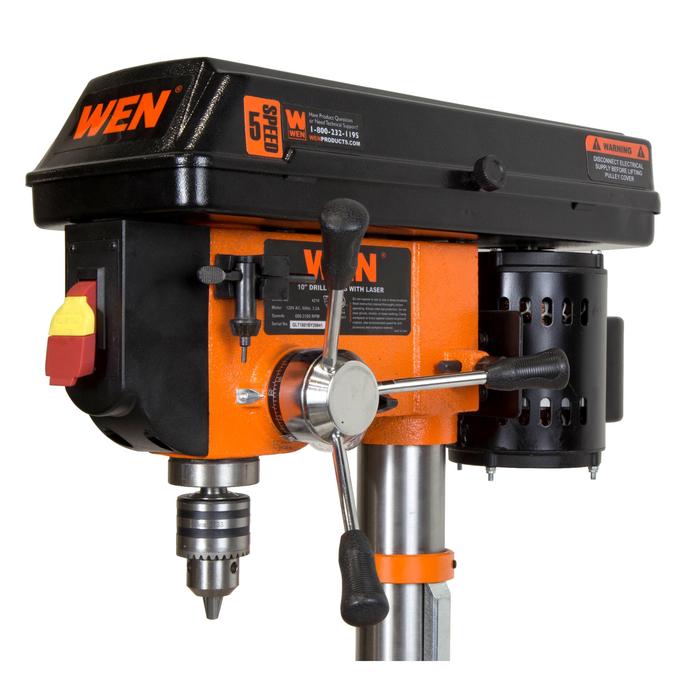 WEN 4210 Drill Press – Full Comparison
The reviews for WEN 4210 drill show a high-level of satisfaction for this product among users. They expressed their impressment by this drill's abilities, as they can literally drill in every imaginable type of stock: aluminum, wood, and hardened steel. It just goes with everything and anywhere. This drill gives you plenty of skills and qualifications that would ease your work. First, 5 speeds provided (600,1100,1700, 2400, 3100) PRM. Also, the swing is 8inch. The motor is 120v, 60Hz, Horsepower 13 HP. The 1/2" chuck with JT33 spindle taper gives you versatility with a variety of bits.When it comes to construction and design, the WEN 4210 drill will surprise you. Its made of a great combination of metal for the important parts like the table, Colum, base, and plastic encapsulation for the motor pack. It has a soft rubber-plastic material around the spindle handles, which makes them comfortable to hold.
Final thoughts:
This drill is perfect for making any design the wood with a professional touch. Before buying any drill you must be accurate and familiar with the reason you are buying it, and whit can of work needs to be done using it; knowing this will help you decide the best drill for you. This model is ideal for wood, plastic, ceramics, tiles, and soft metals, but it may not be the best for holding thick metals. This drill is good for trickey holing jobs; it can be accurate and to the point. If you lie precise, clean cutting drill press experience, the WEN 4210 Drill press  is a very good option for you. There are plenty of options. Choose wisely and make sure to pick the one that matches your needs and your skills. So that you can give your work the best application ever